EchoLink is one of those topics that is sure to start an argument whenever someone brings it up at a ham gathering. I started one myself recently, when I proposed that we allow EchoLink contacts for our club's Worked All Washtenaw award. Some guys maintained that EchoLink contacts shouldn't be allowed because it allows for computer to computer communication, and in that mode, EchoLink contacts are not "radio" contacts. While I see their point, I felt that they should be allowed because this is just a fun award.
Now, these guys have even more "virtual ham radio" operations to complain about: QSONet and HamSphere. Both of these services claim to simulate the ham radio experience with a computer program.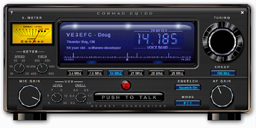 QSONet, which bills itself as "virtual ionosphere for amateur radio," has been around for at least a year. To get on QSONet, you download software that simulates an HF transceiver. (The software only runs on computers running Windows operating systems.)
Once you start the program, you select the mode that you want to operate (including CW!) and the "frequency" on which you want to operate. Then, you log into the QSONet network. The company claims that, "it works with dialup, DSL and cable internet connections. There is no need to configure router ports. The network consists of an array of internet servers which provide streaming voip audio between stations. After installing transceiver software, QsoNet stations are connected to a central server by a single, outbound TCP connection."
To use QSONet, you must be a licensed radio amateur, even though, as they say on their website, "There is no RF. Everything is done over the internet." It also costs to use QSONet. After a 90-day free trial period, you must pay a $32 subscription fee.
A new service that I just heard about is HamSphere. Created by Kelly Lindman, the founder of DXTuners, this service seems to be a bit more sophisticated than QSONet.
For example, the HamSphere websites notes that "skip, fading, QRM, QRN, multipath phase effects, etc. are all factors and rules in this simulation. The system follows the ionospheric laws of radio wave deflection." You can also choose different power levels and antenna types. The user interface isn't as slick as the QSONet interface (see below), but perhaps that's a good thing.
One big difference between HamSphere and QSONet is that anyone can use HamSphere, licensed or not. Another difference is that the software will run on Macs and Linux boxes as well as Windows computers. And, finally, there's no free trial period, after which you have to pay. Instead, HamSphere is allowing users to run the basic version for free and trying to make money by selling optional features.
Like EchoLink, I think these virtual ham radio services might be appealing to hams who live in antenna-restricted communities or others who for whatever reason are not able to set up their own station. BUT, they are certainly not a substitute for the real thing. I just can't see how making contacts with QSONet or HamSphere would be as satisfying as making on-the-air contacts.